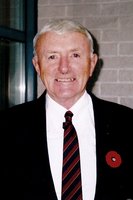 Jack Kyle
Jack Kyle of Cambridge Ontario passed away peacefully in his 77th year on the morning of April 8th, 2018.
Jack was born in Paisley, Scotland and settled in Cambridge, Ontario and raised a son David Kyle and daughter Laura Kyle. They will both miss him only always. Jack will also be missed by a loved and loving friend Dot McConnell who was always by his side. No one could have asked for a better friend. Jack was an avid golfer and enjoyed his esteemed title as the proud owner of not 1 but 2 holes in ones. Jack loved music and as a Dallas Cowboys fan the sound of Glen Campbell's Rhinestone Cowboy could be heard from afar during Sunday's touchdown celebrations. Jack always saw the best in people and would often be heard saying "I've got great neighbours."
Jack's family and friends would like to thank the staff of Bradford Valley for their thoughtful and generous care of Jack during his final months.
Rest in peace...like a Rhinestone Cowboy.
My Heart's In The Highlands
Robert Burns
Private farewell has taken place.
Donations to Diabetes Canada would be appreciated.