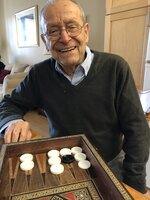 Sami Farah
On Saturday, December 11, 2021, Sami Farah, loving husband and father of three passed away at the age of 95.
Sami Farah was born on November 25, 1926 in Shefa-amer, Palestine to Amin Elias Farah and Salma Habibi. Sami was an entrepreneur at an early age and saw many opportunities to bring new and modern goods to his village in the form of batteries and radios. His endeavors led him to opening the Farah Pharmacy in Nazareth where he took pride in investing in the best dispensing system and in his relationships with the community.
Looking for better opportunities for his family, Sami, his wife Leila, and their three children, Samir, Munir and Salwa, moved to Toronto, Canada in 1978. With the challenges of learning a new language and culture, Sami took the same entrepreneurial spirit to begin a new life, providing what he truly believed to be the best opportunities for his children.
Sami will be remembered for his pure thought and heart, and his strong belief in justice and integrity. He enjoyed being with his family, spending time with his children and grandchildren, and would always greet others with enthusiasm and truly took delight in their company. His commitment to his family was unflinching, his integrity in his values was never compromised and led him to live a life void of anger, hatred and selfishness.
Sami is survived by his three children and their spouses, Samir and Rosie, Munir and Lisa, and Salwa and Barry, as well as his beloved grandchildren; also his brother Hani, sisters Salwa, Nadia, and Samia, and several cousins, nieces and nephews.
A private blessing will be held.
Donations to Community & Home Assistance to Seniors (CHATS) that was pivotal to helping Sami maintain his independence, can be made as a tribute. https://chats.on.ca/tribute-gift/