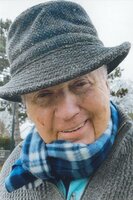 John (Jack) Bain
JOHN (JACK) BAIN The legend of the Quaker Hill neighbourhood in Newmarket has moved on to his next great adventure at 95 years young, A scrappy kid from the west end of Montreal, the oldest of 3 brothers, Jack grew up during the hardships of the Great Depression and World War 2. He left McGill University at age 20 to join the Canadian Armed Forces when wanderlust called. He became a proud member of the Air Force as a Navigator. His claim to fame occurred in 1951 when he was part of the flight crew that brought Princess Elizabeth (soon to be Queen) to Canada for her Royal Tour. As fate would have it he met our Mother Betty while stationed in Winnipeg in 1957. They had many deployments around the world eventually having 5 children in tow before landing in Ottawa in 1967. Settling down in Newmarket when Jack retired from the Armed Forces after 25 years with the rank of Captain. He continued to work for the Federal Government for another 18 years as a Project Development Officer planning Government Buildings. Jack could smell that sweet government pension calling and retired in 1991. He spent the next 31 years doing everything he enjoyed, golfing, curling, daily workouts at a Fitness Centre (until his 90s), travelling, breakfast with "the Chaps" and walking his dogs in the neighbourhood. But, the thing Jack loved the most was spending time with his 5 children, their partners, his 9 grandchildren and most recently 4 great granddaughters. He never missed his grandkid's hockey and soccer games, curling matches, piano recitals and plays. Jack's favourite things evolved as he moved into his 90s but always included family time, his beloved dog Molly, sitting on the swing in his garden, discussing his Scottish ancestry and eating ice-cream. With great joy comes great sadness and Jack was predeceased by his wife Betty and eldest daughter Susan. Our Father's legacy is strong and includes; His Children, Jacki, Tracey, John and Gordon, son-in-law Brent and daughters-in-law Carm and Lauren. Grandchildren, Rob (Krista), Sabrina, Andrew, T.J. (Sam), Devon, Katie, Spencer, Ally & Lennon and Great Granddaughters Kaylee, Khloe, Sophia & Mya. For years to come we will celebrate, laugh and share memories of Jack's shenanigans.
A visitation will be held at Skwarchuk Funeral Home, 30 Simcoe Rd., Bradford on Wednesday, November 2, 2022 from 1 p.m. until the time of a funeral service at 2 p.m.
In Jack's memory donations may be made to the Alzheimer's Society of Canada or your local SPCA.