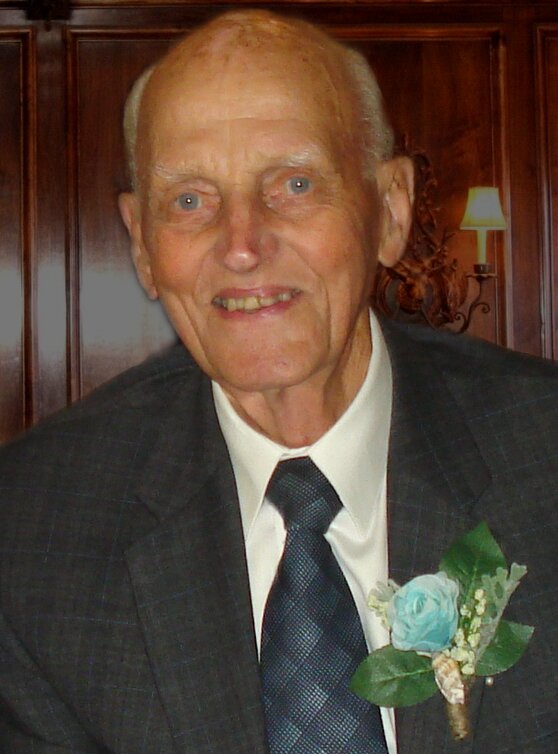 Obituary of Auke Ellens
Auke Ellens was called to his eternal home and welcomed by his Lord and Saviour on Saturday, January 28, 2023, at the age of 93, surrounded by his children, at the Southlake Palliative Care Unit. We believe that he disregarded and concealed his own aches so as to care for his wife as they continued to live in the home they had built together, but once she became ill he gave in to his own pain and suffering.
He was born on July 18, 1929 in Heerlen, Limburg, The Netherlands, third son of Elle and Tjitske Ellens. In 1948 he, along with his parents and seven of his siblings, emigrated to Canada from the Netherlands. He loved to learn, and had a particular affinity for working with numbers. Emigration interrupted his schooling, but those skills were later applied as he often served on committees for his local church and Christian school in a financial capacity. In early 1954, he became owner and proprietor of Springdale Food Store which served that community until 1987. He met Addy soon after immigrating, and they were married on June 7, 1955. One of his first jobs after arriving in Canada was driving for the Hamilton Street Railway. This early experience eventually led to employment as a driver for GO Transit. Auke enjoyed mastering technical gadgets, from the tape recorder and movie camera he purchased soon after his first children were born, to the video camera and computer he occupied himself with in his later years, leaving his family a treasured legacy of recordings. Music was important to him, and he was a member of both the local church choir and the local male chorus The Crusaders. He helped build their own home next to the store, and later, as he neared retirement age, joined the local historical society with Addy, demonstrating an exceptional capability for proofreading. Yes, he was particular about the way things were to be done, but he was generous to a fault, especially with his beloved children and grandchildren.
Predeceased by his wife Addy of 67 years, by only 3 days, he will be lovingly remembered by his children, Joanne (Norman+) Knibbe, Eric (Jo-Anne), Chris (Saskia), Jessica (Dale) Antonides, Audrey (Maurice) Ferkranus and Rosemarie (Rob) Radcliffe. Dear grandfather to 23 grandchildren and 20 great-grandchildren. Auke will be missed by his sisters, Trudy Brouwer, Joan (Pete) Kapteyn, Theresa Beute and Agnes (Cor) Kamerman and sister-in-law Anne Radder . He was predeceased by his parents, his brothers Pieter and Gordon, and sisters Eke, Alice and Frances and their spouses.
Special thanks to Dr. Liauw and the nurses at Southlake who made it possible for Auke and Addy to share a room, and the PSWs and nurse who cared for them so they could remain in their own home these last two years.
Friends and family may call at the Skwarchuk Funeral Home, 30 Simcoe Road, Bradford, ON on Wednesday, February 15th, 2023 from 4-7 p.m. for a combined visitation for Auke and Addy Ellens. The funeral service for both Auke and Addy will be held on Thursday, February 16th, 2023 at 1:00 pm at Sovereign Grace Church (formerly Springdale CRC) 1466 5th Sideroad, Bradford, ON.
A live-stream link will be made available on service day. Church Service Link
In lieu of flowers, please consider a donation to Toronto District Christian High School or King Christian School.
A private interment service to be held at Kettleby Cemetery in the spring.