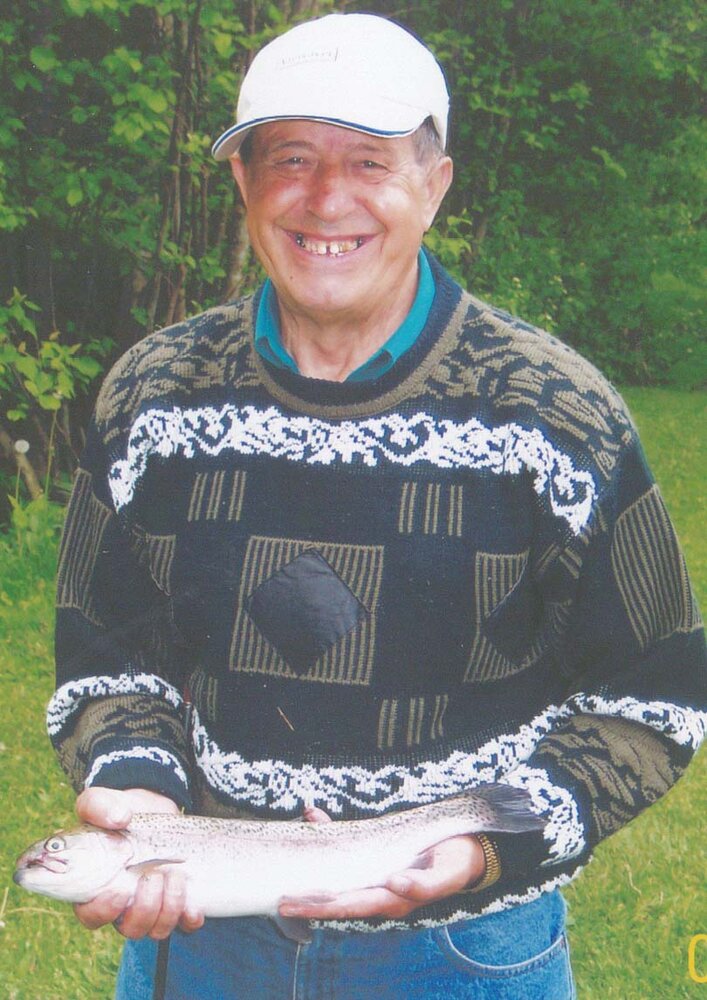 Obituary of Pando (Peter) Boliefski
Pando passed away peacefully in his bed on Saturday, January 22, 2022 in Bradford, Canada. Born 1934 in Bukovo, Yugoslavia, he was a Proud Father (Tatè) and a Great-Grandfather (Dedo). He was 87 years young (even if he told everyone he was "always 25!")
Pando is survived by his entire family including his devoted wife of 60 years, Anastasia Boliefski, the children he loved: Susie (Metry) Halteh, Angie Tsingos, Peter (Jennifer) Bolefski and David (Afra) Bolefski, his beloved Grandchildren: Matthew & Samantha; Grant & Reid; Cheyenne & Jake; and Danillo and his wonderful Great-Grandchildren, Lucas & Leila.
Anyone who drove by the Canal Rd bridge will remember Pando fishing on the side of the road, one of his life-long joys, or sitting in his chair on his porch, watching over the neighborhood and smiling at all the cars and neighbours walking by.
Special thanks to the care and dedication of the Simcoe County PWS's who helped him through these last years.
He will be sorely missed, and lovingly remembered by his extended Family, and many Friends.
Due to Covid 19 restrictions a private funeral service will be held at Skwarchuk Funeral Home, Bradford followed by interment at Highland Memory Gardens, Toronto, both by invitation only. Facial masks and social distancing are required.
Livestreaming of the funeral service will be available on the funeral home website on Wednesday, January 26, 2022 at 12:30 p.m. A link will be provided on this webpage Wednesday morning.
In honour of Pando's memory, donations may be made to Canadian Heart and Stroke Foundation (https://secure-support.heartandstroke.ca/site/SPageServer?pagename=DMDonationForm&s_locale=en_CA&s_fT=cont&s_pres=hsweb&s_cscid=hsweb_media_awos&gclsrc=aw.ds&gclid=Cj0KCQiAubmPBhCyARIsAJWNpiOLfEVKhYkbjC8GpBvc92zsmVZ0yznUrCTJDDfbFaxDSbWcgsoEpfMaAjQfEALw_wcB)
or
the Watch Tower Bible and Tract Society of Canada, World Wide Work, in support of Bible Education and Natural Disaster Relief work (https://donate.jw.org/ui/E/donate-home.html#/donate/WW)


Alternatively, a groceries gift card or Food Delivery service of your choice for Anastasia Boliefski or Flowers for the Funeral Service may be sent.