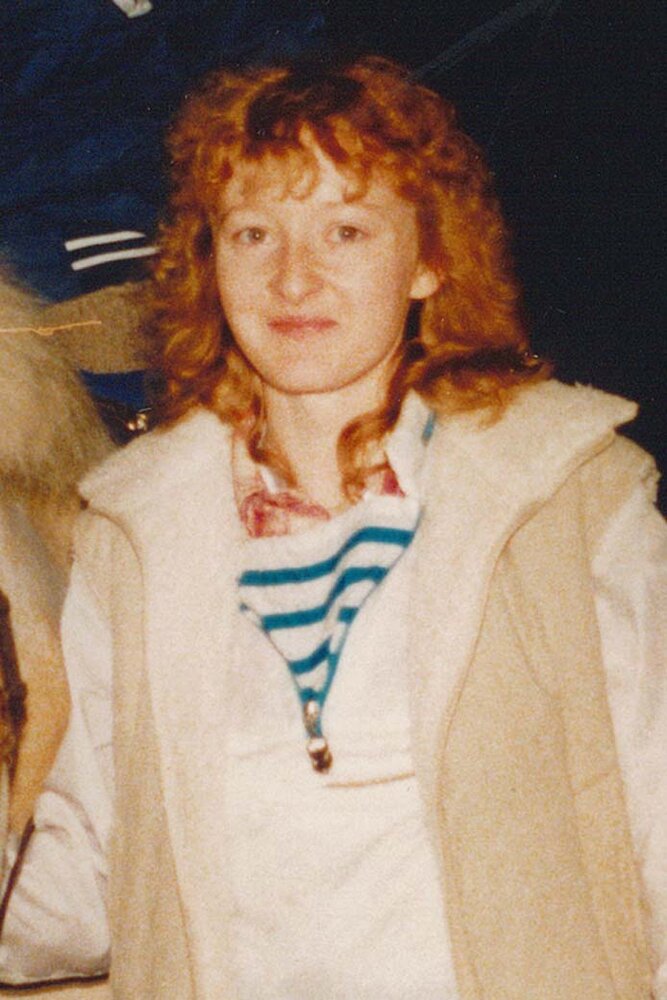 Obituary of JoAnne Amero George
Josephine Anne, known as JoAnne, died at Margaret Bahan Hospice in Newmarket, Ontario on Monday, January 24th 2022. She was born October 13, 1960 in Toronto, Ontario and had what she described as an idyllic childhood there. Her stories about growing up were all about family and the constant presence in her home of grandparents, cousins, aunts and uncles. She was a scion daughter of the Millers of Fogo Island, Newfoundland, and Acadian Ameros, descended from French settlers Amerault. Newfoundland culture was a core part of who JoAnne was as her maternal grandparents lived with her family during her childhood years.
JoAnne was the beloved daughter of Josephine ("Josie") Amero (nee Miller) and Harry Frank Amero. When she arrived, she was greeted by two brothers, James ("Jim") Miller and John Amero. Josie had met and married Harry in Toronto in the late '50s, her family having arrived in Ontario from Fogo, NL in 1957.
Sadly, Harry died in an industrial accident in 1961 while working for a City of Toronto contractor. Josie took up the task of supporting the family, working at the Canadian Imperial Bank of Commerce. In 1968 she met Ron Porter. Ron was ready for the challenge of loving a woman already with three children, something few men are capable of. A romance arose and in 1970, after they married, Jim, John and JoAnne had a new dad. In 1971, brother Dave Porter arrived.
JoAnne loved her little brother and, when she was a teenager working in August at the CNE, she would take him on the rides of the midway. She was a big fan of Dave's hockey aspirations, taking him to and watching many of his games. She saw so much hockey that, to husband Duncan's dismay, she refused to watch NHL hockey on television, and Duncan spent the 2010s largely absent from the Leafs' fortunes.
Josie had set up house just off Finch Avenue in 1962 with her parents and three children. After her marriage, she and Ron moved to Richmond Hill in 1977, JoAnne by then 17 years old. Horses and horseback riding were JoAnne's passion, beginning during her teenage years and continuing into adulthood. She even managed to bring brother Jim along on a few occasions of trail-riding north and east of Toronto. John thinks he may have gone once. JoAnne worked as a groom at a local stable part time during high school, and afterward spent time in Florida at a stud farm. There, she had many adventures, including having a rattlesnake she unexpectedly came upon in a barn shot as it was about to strike.
JoAnne was back in Ontario just a year later in 1980. She found employment at Davis Movers, working with her cousin Theresa as a packer and driver. Later, she worked in the company's accounting office.
JoAnne's wedding ceremony for her first marriage to Jim McGann in 1987 took place in North York City Hall. Mel Lastman was mayor at the time, and brother Jim knew him. Before vows were exchanged, Mel came striding across the foyer in his wife Marilyn's pink jump suit. Jim recalls approaching him and Lastman remembering his name. Jim persuaded him to come over to JoAnne and Jim G. and offer congratulations and best wishes. Brother Jim says it was a slightly bizarre moment given Lastman's attire. JoAnne's husband worked for Dominion Securities while JoAnne was a senior teller at a local Canada Trust branch near their home in Willowdale.
An avid skier since childhood, JoAnne worked at Blue Mountain Resort from 1996 to 2007 on the hospitality side. During that time she was good friends with Joso Weider's widow, Helena, until her death in 2008. In 2000 she met Duncan George who would become her future husband. Duncan ran a small ski school at Blue Mountain, and he and JoAnne were close throughout the year 2000. They remained good friends and he encouraged her return to school at York University in a program of English studies and business administration. Due to labour action at York, graduation was delayed until 2007.
As an office administrator, JoAnne worked for several years at Taiga Building Products beginning in 2008 up until she contracted fibromyalgia in 2011. After two years the symptoms abated, and she was able to work again, this time for Target who had just begun operating in Canada. JoAnne was senior cashier at the Aurora store up until its closing in the spring of 2015.
Meanwhile, she and Duncan had re-connected in 2009, and quickly re-gained their deep affection for each other. Despite renewed medical issues with kidney cancer, JoAnne maintained an active lifestyle, and she and Duncan were constantly hiking, biking and travelling throughout Ontario and Quebec. They were married on June 4th in 2016 in a backyard ceremony at Juniper-Yews, the home that Duncan had purchased in 1991 in the community of Ballantrae. It was the happiest day of their lives. They later agreed that their one regret was that they had not met when they were in their 20s. "Such beautiful children we would have had," JoAnne said. The five married years they had together were among the best in both of their lives.
Sadly the kidney cancer made a third return later in 2016, and JoAnne was transferred to the Odette Cancer program at Sunnybrook Health Sciences for her care. There she received world class treatment in two clinical trials testing immunotherapies and conventional treatment with Sunitinib, a kinase inhibitor. But after five years and a terrible ordeal of debilitating side effects, it became clear that Odette had nothing further to offer and JoAnne was transferred back to Southlake Regional Health Centre for chemotherapy.
The chemo began in October 2021 and the side effects landed JoAnne in hospital a week later with several infections. After recovery, she tried chemo again in late November with the same result. This time her palliative care team recommended she become a resident of the local Margaret Bahen Hospice. This she did December 22. While she remained lucid and alert for most of the time, chatting with family and friends on her cell phone and iPad, she began to decline quickly Friday January 21st, and died, without suffering, a peaceful death at 8:20 am the following Monday.
In addition to her parents and three brothers, JoAnne leaves nephews Klayton Amero and Ryan and Justin Crowder, nieces Melanie Reed (nee Amero), Melissa Amero, and Claire and Rachel Porter. She was pre-deceased by her nephews Zackery Amero (2021) and Joshua Amero (2010).
Throughout her life, JoAnne's passions were horses, gardening, knitting, cooking and photography. Each pastime she mastered, investing the time to read and experiment until she became expert. When she took up residence at Juniper-Yews in 2009, she immediately took over the responsibility for the seven formal gardens there. That division of responsibilities suited Duncan to a tee as he had his hands full with turf maintenance. JoAnne also became a particularly proficient photographer with her innate skill at picture composition. A selection of her work will be on display prior to the funeral service. Duncan and JoAnne took long drives around Ontario to photograph its landscapes. Their trip to the Agawa Canyon north of Sault Ste. Marie in 2010 produced an entire gallery of stunning views.
JoAnne Amero George touched many people in kind, energetic and instructive ways. She was a true force of nature, as attested by the outpouring of affection that has been expressed as news of her death spread among her family, friends and the staff at Margaret Bahen Hospice in Newmarket where she spent her last weeks. She was a most remarkable woman; hers was a personality marked by ethics and true morality. There was not a mean fibre in her. She was the most down-to-Earth kind who came into this life with every Newfoundlander's natural proclivity to never stop talking!
JoAnne's private memorial service will take place on Saturday February 5th, 2022 at Skwarchuk Funeral Home in Bradford.
For those unable to attend the memorial service, livestreaming of the memorial service will be available on this webpage on Saturday, February 5, 2022 at 11 a.m. A link will be provide on this webpage a half hour before the memorial service.
Her ashes will be committed to the earth May 7th, 2022 at Holy Martyrs of Japan Cemetery in Bradford where she will later be joined by her husband Duncan. The celebration of JoAnne's life will be held afterward at John and Debbie's home in Brentwood.
In lieu of flowers, JoAnne's wishes were that a donation to the Odette Cancer Centre Foundation at Sunnybrook Health Centre be made.