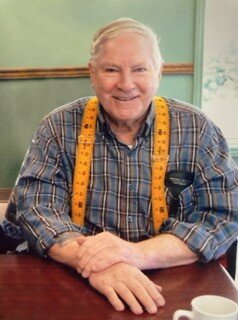 Obituary of Frank Gordon Atkinson
Peacefully passed away with his son at his side at Mount Hope Long Term Care, London on Tuesday, August 16, 2022. Frank Atkinson of Elmvale and formerly of Midland and Holland Landing at 89 years of age.
Beloved husband of Glendean (nee Draper, predeceased in 1990). Loving father of Darren (Jessica) Atkinson. Cherished grandfather of Thomas Atkinson and Olivia Atkinson. Survived by his loving wife Margaret Anne Atkinson (Jamieson/nee McArthur), and her children Susan Broughton, Laura Jamieson, and Gary Jamieson. Frank will be fondly remembered by extended family and friends.
Visitation will be held at Skwarchuk Funeral Home, 30 Simcoe Rd., Bradford on Monday, August 29, 2022 from 10:30 a.m. until time of a funeral service at 11:30 a.m. Interment to follow at Queensville Cemetery.
In Frank's memory, donations may be made to the Heart & Stroke Foundation of Ontario.
Online condolences may be made at www.skwarchukfuneralhome.com
Frank Gordon Atkinson was born on April 20, 1933 in the family home, a two story frame house on the Mount Albert Road in Holland Landing, Ontario. He was the the sixth child of Charles Edward Atkinson and Betsy Pearl Longhurst/Atkinson. His siblings were Luie, Earl, Selby, Alma, Blanche, Lila, Edna and Sam. Frank's working life started as a boy in the Holland Marsh and another summer found him washing dishes at the Mayfair Restaurant in Newmarket, then from fall till spring he worked at the Office Specialty furniture factory sanding furniture. During WW II Frank and his Sister Blanche, ran the farm as children and cared for their mother who was not well as their father was absent and brothers and sisters were either married or away at war. Frank left home at the age of 12 and started sailing, his first job being a porter on a Lake freighter, bulk carrier vessels that steamed the Great Lakes. By the age of 15, he worked his way up through deck hand and watchman to wheelsman. During that time he sailed for Meisner and Patterson Steamship lines. As the shipping season is only in the warm months the first winter off Frank worked at General Motors in Oshawa on the assembly line and another summer he worked with Canada Tree Experts in Keswick. During the 1951 sailing season, Frank was hospitalized during the summer of 1951 to have his tonsils removed. While visiting Frank, his sister Blanche also visited her Husband's cousin, Ethel Glendean Draper, in the same hospital. The next time Blanche and Earl visited, they brought Glendean with them. Glendean then came back every day on her own to see Frank until he was discharged. Later that year on September 29, 1951 Frank married his young sweetheart, Ethel Glendean Draper of Keswick when they were both 18. He spent the winter working with R.J. Pollock waxing turnips and they were living at Elmhurst Beach in Keswick. In the spring of 1952, Frank went back sailing on the Great Lakes but found he was too lonely so when the ship came back to Midland he left sailing behind. Frank and Glendean established a home in Midland and he helped the farmers in the area with the fall harvest. Later he worked in the engine room of a big ship to get ready for winter. Over a period of two years he worked in a variety of positions at the Midland Shipyards on three different ships which were being built. One winter the men had to cut the ice with a six foot ice saw, hand powered, to bring a ship in from its winter berth to the flour mill. The ship was 650 feet long and the ice was 3 feet thick. Frank worked at the Copeland Flour Mills, which is now Pillsbury Flour Mills at the Midland Harbour. The work was very hard carrying large bags of flour on his back and he would pile 42 tons in seven hours. Then he got a job with Superior Propane for gas installations. While at Superior; on his days off, he built a house for his mother in Holland Landing. Frank and Glendean then purchased a grocery and variety store on 8th St. in Midland from his cousin Ab Atkinson. Frank loves children and he gave away as much candy and pop from the store as he sold. In 1966, they adopted a baby boy they named Darren Glen Atkinson. To help subsidize their income from the store, Frank worked for a time at H.J. Thompson Plumbing and Heating and delivered produce in the surrounding district for Harry Cremer Produce, while Glendean and other helpers kept the store operating. The arrival of the supermarkets marked the end of the small grocery stores, so the grocery and variety store was closed and converted into an apartment. Frank then ventured into the janitorial business which he operated for seventeen years and hired several people to help with the many cleaning contracts he accumulated, and Darren was a great help after school. Over the years many parties and jam sessions were held with lots of music. Frank played the spoons and banjo and tried his best on the violin. In 1972, the family of three and one dog moved to 95 7th Street, Midland. In 1981, Frank was employed at Bayweb Printing Company in Elmvale, and the family moved to 74 John St., Elmvale in 1984. Frank had a great love for hunting and since the early 60's, every Fall, he went deer and moose hunting. Sometimes flying into Soot Lake or Jamtama Lake to hunt camps in Northern Ontario or driving to Baysville to a deer hunting camp. In 1990, he lost his wife Glendean after a courageous fight with cancer. It was one night while out dancing, he met Margaret Jamieson at Sunnidale Corners and in 1997 they were married at Stayner United Church. In May 1998, Frank retired after 17 years of service with Bayweb Printing. The same year Frank and Margaret moved to their home at 23 John St., Elmvale. Frank and Margaret went on trips to Scotland and Ireland with the fiddle group and a five week trip to the East Coast of Canada and Newfoundland in the motorhome. Frank and Margeret loved to drive around and visit people who were sick or lonely. With his great sense of humour, Frank loved to chat and make people laugh. He was always giving and lending a helping hand to his neighbours and spoiling the children on the street. Frank welcomed a grandson, Thomas Frank Dean Atkinson, into his life in 2006 and a granddaughter, Olivia Kimberley Atkinson, in 2009. Frank and Margaret continued to travel and play their fiddles at the Askennonia Club in Midland and other jamborees and get togethers in Ontario. During the Covid pandemic Frank and Margaret were there for each other and with the help of friends and family made it safely through together. On December 22nd, 2021, Frank suffered a debilitating stroke during the lockdown period. Frank valiantly worked on his own and with his son to recover at Georgian Bay District Hospital in Midland and made the move to Mount Hope Center for Long Term Care in London Ontario, in early May of 2022. Here he enjoyed spousal reunifications with his wife Margaret who lovingly played the fiddle music he enjoyed so much. On August 16th, Frank passed away with his son Darren by his side at 10:26 p.m.