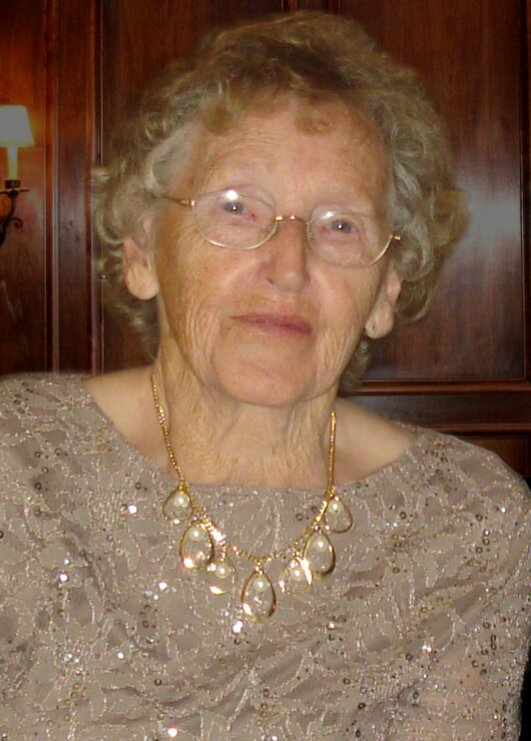 Obituary of Addy Ellens
It is with much sadness but also with thanksgiving that the family of Addy Ellens announces that she passed peacefully into the arms of her Shepherd at the Southlake Palliative Care Unit on Wednesday, January 25, 2023, at the age of 89. After she endured a brief illness, arrangements were made for Addy and her husband Auke, who had also been admitted to hospital, to be cared for in the same room in the palliative unit, their beds side by side. We believe that it was a comfort to her that her husband, our dad, was able to hold her hand as she slipped away to glory.
Addy was born in Summit, New Jersey on September 2, 1933, the seventh child of Cor and Nell Radder, a family of post-WWI Dutch immigrants. Her family emigrated a second time in 1948, this time to Ontario. This move interrupted her schooling so that she was unable to graduate from high school. She met Auke soon after immigrating, and they were married on June 7, 1955. Despite her lack of a high school diploma, Addy was gifted with a creative mind and pursued many interests. She was always learning a new craft and working on a project whether it was chair caning, embroidery, quilling or knitting 'gram-mittens' for anyone who asked for a pair. She also gave much of her time to volunteering in her church and community, even participating in a mission trip to Romania. She was an outgoing person, always happy to meet new people who had just moved in down the road and inviting them to her church, or cultivating friendships with people she met on her travels with Auke. She loved music, sang in the local church choir for years, and attended every recital her children and grandchildren participated in. Addy loved books and reading, and helped to establish the local church library. She was a natural teacher, a patient mom and grandma who taught others how to knit, roll out a pie crust, or arrange a bouquet of flowers from her garden. She was deeply interested in local history, and, with Auke, was part of the Beeton Fair organization as well as the Bradford Historical Society. In between all of this activity she still found time to look after her precious grandchildren whenever the need arose, cultivated a large vegetable and flower garden, canned vast quantities of fruits and vegetables, and helped to run the family grocery business, Springdale Food Store.
Addy will be lovingly remembered by her children, Joanne (Norman+) Knibbe, Eric (Jo-Anne), Chris (Saskia), Jessica (Dale) Antonides, Audrey (Maurice) Ferkranus and Rosemarie (Rob) Radcliffe. Dear grandmother to 23 grandchildren and 20 great- grandchildren. Addy will be missed by in-laws Anne Radder, Trudy Brouwer, Joan and Pete Kapteyn, Theresa Beute, and Cor and Agnes Kamerman. She was predeceased by her parents and her brothers Cor, Chris, Andrew and Leon, and sisters Nell, Elizabeth and Mary and their spouses.
Special thanks to Dr. Liauw and the nurses at Southlake who made it possible for Addy and Auke to share a room, and the PSWs and nurse who cared for them so they could remain in their own home these last two years.
Friends and family may call at the Skwarchuk Funeral Home, 30 Simcoe Road, Bradford, ON on Wednesday, February 15th, 2023 from 4 -7 p.m. for a combined visitation for Auke and Addy Ellens. The funeral service for both Addy and Auke will be held on Thursday, February 16th, 2023 at 1:00 pm at Sovereign Grace Church (formerly Springdale CRC,) 1466 5th Sideroad, Bradford, ON.
A live-stream link will be made available on service day. Church Service Link
In lieu of flowers, please consider a donation to Toronto District Christian High School or King Christian School.
A private interment service to be held at Kettleby Cemetery in the spring.