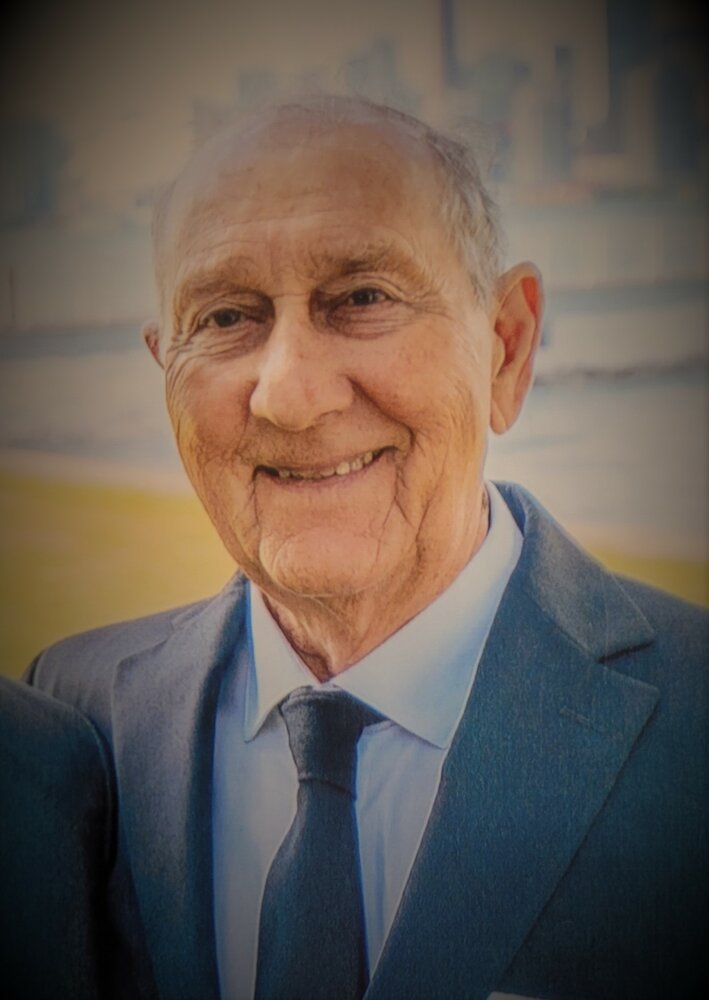 Obituary of William Edward Joyce
With heavy hearts, we say goodbye to William Edward Joyce (Bill, Willy). Surrounded by his loving family, he passed away at his home in Sharon on Thursday, May 18th, 2023, at the age of 82.
A kind and devoted husband, father, grandfather, uncle, brother, friend and neighbour who will be dearly missed. Bill is predeceased by his parents William John and Leona. He is survived by his wife of 59 years, Karol Anne (nee Coutts); his children Michelle (Paul), Scott (Eve), John (Alison); his siblings Barb (Harry - deceased), Gloria (Paul), Ernie - deceased (Linda) and Audrey – deceased (Dean). Proud grandfather of Michael, Kiersten, Sam, Vanessa, Josie, Casey, Liam and Isabella.
Bill spent his childhood growing up in Mount Albert with his partners in crime, Bruce, Barb and Ernie causing mischief around the family farm. Adventures included tobogganing out onto the road, swimming in deep waters, fishing, playing by the railway tracks and climbing in the barns.
Bill met the love of his life, Karol Anne at 20 years of age and together they had many adventures in farming, raising spirited children and finally navigating his last few months with grace and perseverance.
Bill was a 20-year resident of East Gwillimbury and a 35-year resident of Bradford West Gwillimbury. He wore many hats in his lifetime including that of a teacher, farmer and real estate agent. He was a public-school teacher in Newmarket, Mount Albert and Cookstown beginning his career in a one room schoolhouse in Holland Landing at the age of 17. Teaching allowed him to save enough money to realize his dreams of owning a farm – even owning a large dairy farm in Sunderland.
Bill loved the outdoors – whether it be at the cottage or home on the farm. He'd often say, "Why, it's a beautiful sunny day, we need to get outside". He enjoyed sharing big family meals and one of his favourite sayings was, "We eat like Kings and Queens". He would often give advice to his eight grandchildren such as "Life is hard, yard by yard, inch by inch, it's a cinch!".
He was always ready to dance an Irish jig with his grandchildren, help with schoolwork, beat any opponent in a game of cards and discuss the latest stock news from BNN. He was proud of them all. Bill made everyone (friends, siblings, grandchildren, nieces and nephews) feel unique and loved and always made an effort to be interested in what they were interested in.
Bill was happiest working around his farm and spending time with loved ones. He lived every day fully, showing love and affection to those he cared about and finding joy in the simple things in life: a sunny day, a phone call to a friend, a fresh raisin or blueberry pie, a ride on the tractor, or a walk to the bush.
He is greatly loved, deeply missed and best remembered on his tractor, ignoring Karol Anne waving him in for supper. Rest well, Bill. We appreciate all of the extra time you pushed through your pain to leave your loved ones with more memories, love and lessons to cherish forever.
Friends and family are invited to join in a Celebration of Life on Saturday, June 3, 2023, at Skwarchuk Funeral Home 30 Simcoe Rd., Bradford. Visitation is from 10 a.m. – 12 p.m., followed by a service at noon.
For those unable to attend the memorial service on Saturday, June 3, 2023 a link to livestream the service will be provided on this page at 12 noon.
In memory of Bill, donations to the Stronach Regional Cancer Centre at Southlake Regional Health Centre or local Food Bank would be appreciated.