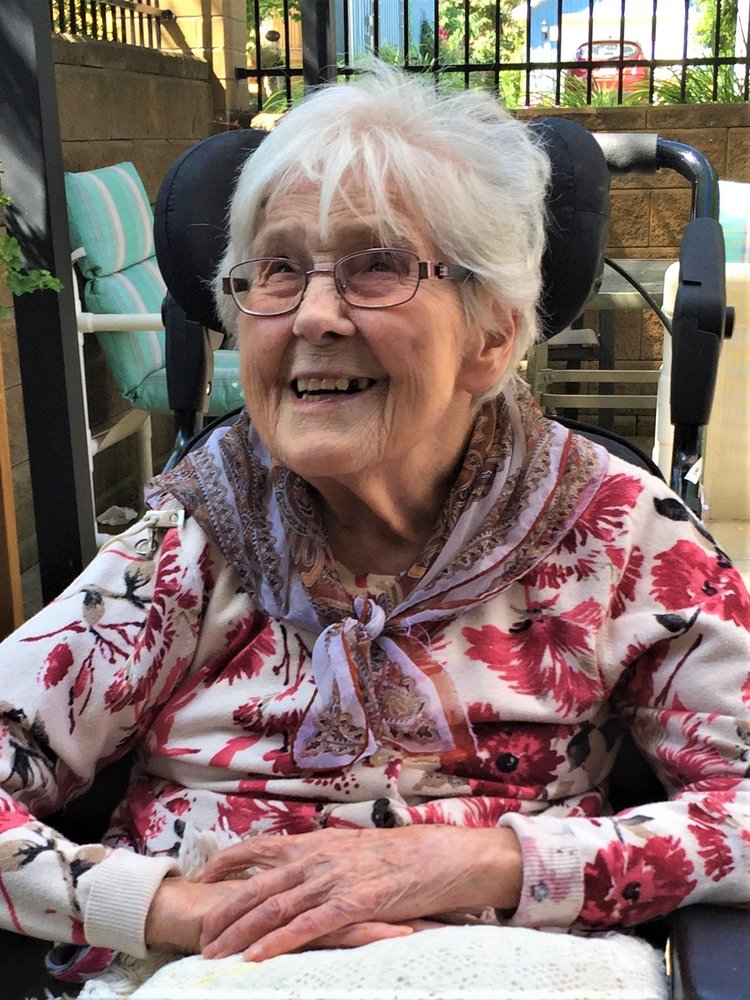 Obituary of Ona Minota Fines
Ona Fines passed away peacefully on September 13, 2020 at Chartwell Aurora in her 106th year. She was predeceased by Lorne in 1981, her beloved husband for 44 years. Although we are saddened by her passing, she lived a meaningful, productive life as the matriarch of her family and an active member of her community.
Ona was born on a farm in 1914. She lived through so many world events, witnessed so many advancements in the world and experienced two global pandemics. She led a simple, but fruitful life.
Having lived through the Great Depression, Ona understood the value of the three R's long before it was in vogue. If there was a way to reuse something, Ona would figure it out. She acquired only those things she needed. Ona meticulously created beautiful quilts and braided rugs using fabric from old hunting shirts, suits and dresses.
Ona was a made a life member of the Bradford United Church providing years of service as an elder, a member of the UCW, involved in many activities, and baked buns and prepared food for all the fund raisers and social occasions. She also was active in Bradford's Seniors' group serving as treasurer for several years.
Ona and Lorne pioneered cottage life at the Lake of Bays back in the 1940's when cottaging without electricity, running water or a nearby grocery store was much more rustic than the Muskoka of today. Over the years, she enjoyed spending the summers at the cottage with her children and grandchildren coming to share it with her. She was a good hostess and always made sure guests whether invited or those who dropped in were well fed.
Prior to moving into Chartwell Aurora, Ona was a resident at the Clock Tower Inn in Newmarket where she was an active participant in all their activities. She enjoyed board games and card games and was a formidable euchre player. Her greatest surprise was being selected to be a model in their fashion show.
Ona is predeceased by her sisters, Audrey Meek (Milburn), Ruth Davis (Ken) and her brothers, Cecil Pinder (Marjorie, Hilda) and Ken Pinder (Muriel). She will be sadly missed by her children, Grace (late William), Eric (Loretta), Harold (Natalie) and Edward, her grandchildren, Ann, Glenn, Pauline, Carie, Greg, Robert and Leslie, her fourteen great grandchildren and seven great, great grandchildren.
Our heartfelt thanks are extended to the team on G2 at Chartwell Aurora for the love and care they extended to our Mom.
Due to the Covid-19 pandemic if you wish to visit the family at the funeral home an appointment needs to be made to attend the memorial visitation. Please contact Skwarchuk Funeral Home, 30 Simcoe Rd., Bradford by phone (905-775-3335 or 1-800-209-4803) after Friday, September 18, 2020 to book a time to visit with the Fines family on Thursday, September 24, 2020.
A private memorial service will be held followed by a burial of ashes at Newmarket Cemetery.
In lieu of flowers, in Ona's memory, donations may be made to the Bradford United Church or to the charity of your choice.
Online condolences may be made at www.skwarchukfuneralhome.com.