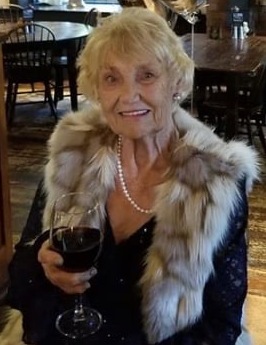 Obituary of Edith Pauline Penney
Edith Pauline Penney (Gillard) peacefully passed away July 14, 2022 at the age of 92.
Edith was born in Harbour Grace, NL with her three sisters, (late Minnie, Jean and Sandra). Later married (in loving memory late) Stephen Clyde Penney on September 14, 1950. Together they came to Toronto, ON for their honeymoon and stayed to raise their family of six beloved children; Sharon (Cosimo), Deborah (Walter), Stephen (Darlene), Dale (Denis), Paula (Luis), and Michelle (Ralf).
Becoming a loved Nanny to Julianne, Cosimo, Joseph, Amanda, Darren, Stephen, Laura, Sarah, Danny, Michael, Andre, Steffen, beloved late Rachelle, and Chanelle.
Being the Proud Great Nanny to Daniel, Sabrina, Jesse, Kyle, Tyler, Madison, Leah, Cameron, and Emily.
Edith enjoyed and loved her family and enjoyed the large crowds that filled the house with laughter and joy.
Please join us to share your love. Viewing to be held at Skwarchuk Funeral Homes, 30 Simcoe Road, Bradford, ON on Monday, July 18, 2022 from 5:00 pm to 8:00 pm. Funeral will be held at Skwarchuk Funeral Home on Tuesday July 19, 2022 at 1:00 pm. followed by interment at Mount Pleasant Cemetery, 3217 County Road 4, Bradford, ON
Family and Friends are welcome to join the celebration of life following at Brick N Fire Restaurant, 300 Holland Street West, Bradford, ON from 2:00 pm – 4:00 pm.